Cool Japanese Vpets
(updated 7/25/03)
Wagamamaholder Myar
"Wagamama" is Japanese for "selfishness"....aptly describes our feline friends. I haven't opened mine yet, so I can't comment on what they're like yet. It's different from other pets, in that it shows a face on the screen instead of the body. It comes in many different colors. I'll put up the other colors when I have a chance.
Tama & Friends
Adorable little kitty pet with lots of characters and cute activites.
Nekotcha
This one's familiar to most people. And anyone who's played with one, knows it's HORRIBLE to take care of.
---
Hello Kitty Diet Pet - Metcha Esute (means "very French)
This one's funny. Each time you start, you get a different size Kitty (either chubby or scrawny) and you have to help her get back into shape using diet & exercise and choosing the proper foods for her (the foods have different caloric values).
Another Dieting pet
Notice the little flying hamburger with wings?
Another Dieting Pet (seems to be a trend)
This one actually has a built-in tape measure! How cool is that?
---
This one is a pet detecitve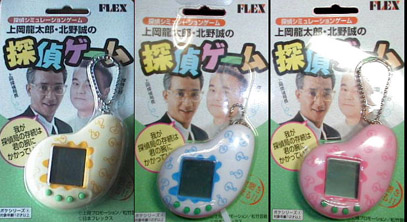 ---