My "Puppy" Mutsu
by Tomy (Japan)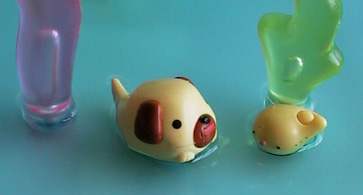 The great thing about the Mutsu Pup is he doesn't have any fins, so he never gets caught going in and out of his little cave like the fish do sometimes.
Pup borrowing Mutsu's round bowl.
Oooh, he'd be perfect for the yellow Mutsu bowl!
---
The rest of my Mutsu collection
** Rare Limited Edition **
_/_/_/_/_/_/_/_/_/_/_/
Return to Mutsu's Main Page

---