Japanese Round Bowl Style Mutsu
by Tomy (Japan)

This version is so much prettier than the American version. Looks like a fish bowl.
Special thanks to my friend Jason in Japan for getting it for me.
| | |
| --- | --- |
| Unlike the original tank, this one has no buttons on it for feeding and playing. It uses a little remote control instead. | Japanese Packaging |
| | |
Detailed description of this version on my "review" page.

These are the three colors they came in. I have all three, but pink is my fav.

Interacts with other Mutsus
Put two tanks together and they will talk and sing to each other. Too cute for words!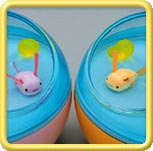 ---
The rest of my Mutsu collection
** Rare Limited Edition **
_/_/_/_/_/_/_/_/_/_/_/
Return to Mutsu's Main Page

---