My Collection
(page created 08/02/03)
Hidamari No Tami (meaning "sunny people") & Hanauta No Tami (meaning "humming people") are members of the "Nohohon Zoku" (meaning "Nonchalant Family"). They are part of Tomy Japan's "healing" line (also known as stress relievers), which also includes Mutsu and MicroAqua.

I absolutely love them. They're so soothing to watch. I have one in every room. It amazes me how fluid the movements are and how silently they operate. Spend 10 minutes watching one of these things and your stress will melt away :-)
"Hidamari No Tami" Name Card Holders

Solar powered desk accessories. Their heads sway peacefully from side to side....very soothing.

| | | |
| --- | --- | --- |
| | | |
| | | |
The 3 on the bottom row nod their heads up and down, instead of side to side....even more soothing.

| | | |
| --- | --- | --- |
| | | |
---

"Hanauta No Tami" (musical)
Battery operated desk accessories that sing and dance when you activate them.
Hook several up together and they'll sing in Harmony.
The ones above each sing three different songs.
The one below is an alarm clock. It has 12 songs.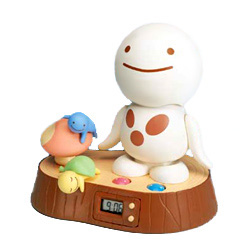 Click the link below to hear a sample of their singing together...
Hanauta Sample
(requires Flash plugin)

---
More Hidamari & Hanauta...
These 3 were just released, so don't have them yet.
| | | |
| --- | --- | --- |
| Sasayaki of Mori (forest) | Sasayaki of Umi (ocean) | (plus 2 other new colors not shown) |
I don't have this one yet, either. It's from Christmas 2002.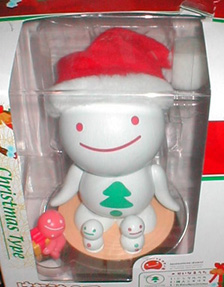 ---
Watch out for FAKES.
Be aware, there are knock-off versions that are not made by Tomy. Out of the box, it's almost impossible to tell the knock-offs from the real thing--except for the "Fishing" one, because of the eyes. With the others, you just have to look carefully at the packaging. Authentic Tomy Hidamari will have the Tomy name and "Nohohon Zoku" logo on them. See photos below....
Another way to tell, is by the color. Tomy never made a blue "Fishing" Hidamari, only orange and red.
Hidamari available here....

(they ship worldwide)
---