Limited Edition
Japanese DisneySeries
(updated 8/13/03)



Available in Japan and the UK...
| | | |
| --- | --- | --- |
| Mickey Mouse | Minnie Mouse | Donald Duck |
| | | |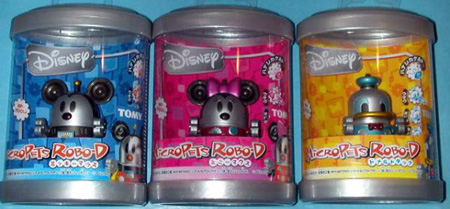 These are way cooler than I expected! I just assumed they'd sound the same as all the others, but they don't--they're SOOO different. They're little robots instead of animals, so their sound effects are robotic sounding, like something straight out of "The Jetsons"cartoon....very, very cool. I can't stop playing with them. The photos make them look kind of big, but they're really very tiny and adorable.

If anyone out there was considering getting some but wasn't sure if they'd be worth it....trust me, you won't be disappointed. I like these even better than the other Micropets.

Ohhhh, I wish they'd make an R2-D2 one!!!
---
Micropets available here....

(they ship worldwide)
Back to
Micropets Main Page
Instructions
English instructions - works for all pets
My Review
my personal review written when they first came out
---