MicroBabies
(page created 8/13/03)

Brand new addition to Micropets line.


Available in US, UK, Japan & Australia.
(US version is called "My Little Babies")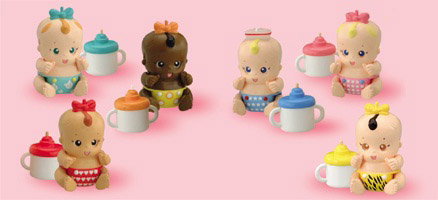 (prototype image)

.

There were 2 versions made....USA and UK. Both versions are identical, except for the image on the bottles. The U.S. version has words on the bottles (shown below) and the UK version has cute little pictures instead, to represent those words (shown further down the page).

Also, the names on the package are slightly different. The U.S. version gives them regular names, like "Jordan" and "Madison" and the UK version uses titles, like "Nursery Baby", "Picnic Baby", etc. America has the U.S. version (obviously). The rest of the world (including Japan) got the UK version with the cuter bottles.




The U.S. name is in pink, the Japanese name is in blue.
Bailey
"Celebration Baby"
Jasmine
"Nursery Baby"
Jordan
"Bath Time Baby"
.
.
.
Madison
"Picnic Baby"
Kaitlynn
"Beach Baby"
Sydney
"Secret Garden Baby"
Over 10 great features
* I Response to your vice and touch.
* Let me sing the ABC song for you.
* I sing and dance with other Babies.
* I giggle and make baby sounds.
* My eyes really blink.
* I drink from my bottle.
* I sing myself to sleep.
* No programming required.
---
Packaging
Packaging for both versions is the same. Notice the front of the bottle has a little picture of milk instead of the words "Baby Formula".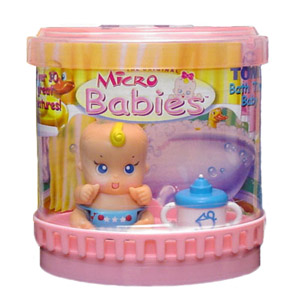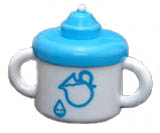 Hear their cute sounds!
MicroBabies & Micropets available here....
.



.

(they ship worldwide)
---
Photos of all 71 Micropets characters
Instructions
English instructions - works for all pets
My Review
my personal review written when they first came out
Please note: I am NOT a business, I am NOT a Distributor and I am NOT affiliated with Micropets or the manufacturer in any way, so please stop emailing me requesting wholesale prices or asking me to make you a distributor. I'm just an ordinary woman who bought some of these toys at a local toy store. Any questions regarding distribution should be directed to the company that makes them, not to me.




---