(updated 08/18/03)

Tiny little interactive pets by Tomy.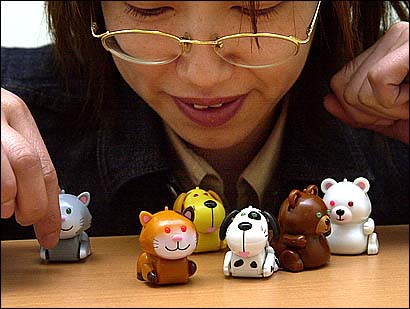 (photo taken from magazine advertisement)
Manufacturer's Description:
MicroPets are only one inch high. They can interact with each other, responding to each other's sounds and actions. They also have voice recognition and can follow commands that are spoken to them....no programming needed. They sing, they play and according to Tomy, they'll even get upset when they're left out. U.S. version pets sing the National Anthem.
_/_/_/_/_/_/_/_/_/
News
Just_released:
New Series 3 Micropets!


Japanese Series #7 (four new dogs)
Other News:
There is a Limited Edition Halloween Micropet in the US, it is a Japanese style Black Cat all decked out for Halloween. Look for a picture in the American Limited Edition Seasonals section.


A sneak peek at Series #3 characters
Photos of all 71 characters
Instructions
English instructions - works for all pets
My Review
my personal review written when they first came out
Micropets & Microbabies available here....

(they ship worldwide)
_/_/_/_/_/_/_/_/_/
Check it out!

Micropets makes it into the Guinness Book of World Records for being the tiniest, sound activated, self-powered toy.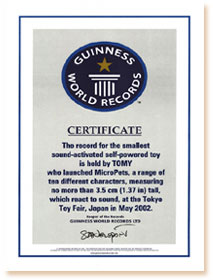 _/_/_/_/_/_/_/_/_/
First released in mid June of 2002, to Toys R Us stores in NY & NJ locations. Released early Aug to the rest of the country. According to Tomy, they're supposed to be available in most toy stores (TRU, KB, Walmart, Kmart, Target etc..), but so far I've only seen them in Toys R Us and KB Toys. Their retail price was only $7.99 (USD). Japanese versions are 1,270 yen (approx $10.50 USD).

---

Please note: I am NOT a business, I am NOT a Distributor and I am NOT affiliated with Micropets or the manufacturer in any way, so please stop emailing me requesting wholesale prices or asking me to make you a distributor. I'm just an ordinary woman who bought some of these toys at a local toy store. Any questions regarding distribution should be directed to the company that makes them, not to me.
---